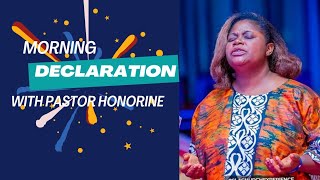 Are you ready to unlock the secret to receiving abundant blessings from God every day? It's time to uncover the power of morning declaration for a life filled with miracles and divine favor. In this blog post, you will discover the profound impact that your daily declaration can have on attracting God's blessings into your life. So, get ready to experience a transformative journey as we delve into the remarkable insights of morning declaration and embrace the abundant blessings waiting for you today. Your path to a blessed and fulfilling life starts now!
---
Introduction
Do you ever wake up in the morning and feel like you need a little boost to start your day? Well, have you ever considered the power of a morning declaration? A morning declaration is a simple yet powerful practice that involves speaking positive affirmations and blessings into your life right at the beginning of each day. It sets the tone for your day and helps you align your mind and spirit with the blessings that God has in store for you. In this article, we will delve into the secret power of morning declarations and how they can positively transform your life.
The Power of Morning Declarations
Setting Your Intention: When you declare positive affirmations in the morning, you are setting your intention for the day. By speaking blessings over your life, you are essentially telling the universe and God what you want to attract. This intention-setting helps you focus on the positive things you desire, creating a pathway for them to manifest in your life.

Affirming Your Faith: Morning declarations are a powerful way to affirm your faith and belief in God's love and blessings. By speaking these affirmations out loud, you are strengthening your connection with God and opening yourself up to receive His divine favor.

Shifting Your Mindset: The words we speak have the power to shape our mindset and beliefs. By declaring positive affirmations in the morning, you are actively shifting your mindset from a place of lack or negativity to a mindset of abundance and positivity. This shift in perspective sets the stage for a more fulfilling and blessed day.
How to Practice Morning Declarations
Find a Quiet Space: Begin by finding a quiet and peaceful space where you can focus and connect with your inner self. It can be a corner in your room, a garden, or any place where you feel calm and relaxed.

Set Your Intention: Take a few deep breaths and set your intention for the day. Ask yourself, "What blessings do I want to attract today?" Visualize these blessings and hold them in your mind and heart.

Speak Your Declarations: Start speaking your morning declarations out loud, using the power of your voice to bring them to life. Remember to speak in the present tense, as if the blessings have already manifested. For example, say, "I am blessed with love, abundance, and happiness."

Believe and Feel: As you speak your declarations, believe and feel the truth behind the words. Feel the joy, love, and abundance that these blessings bring. Allow yourself to fully embrace and embody these feelings.

Repeat Daily: Make morning declarations a daily practice. Consistency is key when it comes to harnessing the power of declarations. By making it a habit, you strengthen your belief and attract more blessings into your life.
Frequently Asked Questions (FAQs)
Why is it important to speak morning declarations out loud?
By speaking your morning declarations out loud, you are amplifying their power and sending a clear message to the universe and God about your intentions. It helps you connect deeply with the affirmations and creates a strong energetic shift within you.
Can I write down my morning declarations instead of speaking them?
While writing down your morning declarations can be helpful, speaking them out loud is more powerful. Speaking engages both your mind and voice, creating a stronger energetic vibration that resonates with your intentions.
How long should I spend on morning declarations?
There is no set time limit for morning declarations. You can spend a few minutes or as long as you feel guided to. The key is to create a dedicated space and time for this practice, even if it's just a few minutes each morning.
Can I customize my morning declarations?
Absolutely! Your morning declarations should reflect your desires and intentions. Feel free to customize them to align with your personal goals, dreams, and aspirations.
Can I practice morning declarations at any time of the day?
While morning declarations are traditionally done in the morning, you can practice them at any time that feels right for you. The key is to set your intention and connect with the energy of blessings and abundance.
Conclusion
Morning declarations are a powerful tool for attracting blessings and setting a positive tone for your day. By speaking positive affirmations and blessings into your life, you align yourself with God's divine favor and open yourself up to receive His abundant blessings. Make morning declarations a daily practice and watch as your life transforms with an abundance of love, joy, and success.
FAQs
How do morning declarations help in attracting positive energy?
Can morning declarations help in manifesting specific desires?
How long does it take to see the effects of morning declarations?
Can morning declarations help in overcoming challenges and obstacles?
Are there any specific prayers or verses that can be included in morning declarations?